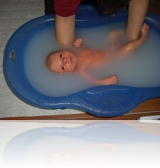 Wir mussten etwas warten, aber dann war er ab, die Nabelschnur. Damit war die Zeit für das erste Bad gekommen. Endlich konnten wir die kleine blaue Babybadewanne einweihen! Während es für Nadja anfangs der reine Horror war, liebt Malte das Baden und entspannt sich im warmen Wasser – ganz so, wie es

in den Büchern

in der Werbung beschrieben ist. Trotzdem – auf Empfehlung der Hebamme einfach mit Milch anstatt teurer Babybadekosmetik.
We had to wait a little longer, but finally the umbilical cord was gone. So it was time for the first bath, and we could use the little blue baby bathtub waiting in our bathroom for weeks. While bathing was pure horror for Nadja in the beginning, Malte loves the water right from the start. He relaxes in the warm water – just as described in the books in the advertisments. Still – according to our midwife we simply use some milk instead of expensive baby bath cosmetics.
Leave a Reply