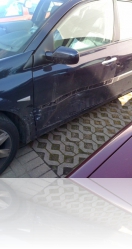 Das war es also. Nach einigen kleineren Auffahrunfällen in meiner Jugend ;-) bin ich eine ganze Weile unfallfrei geblieben. Doch am Dienstag, 23. September, hat es mich erwischt. Allerdings, ich bin unschuldig! Ich war gerade auf dem Rückweg vom Kindergarten, wo ich Nadja abgegeben hatte, als mir auf einer Nebenstrasse jemand klassisch die Vorfahrt genommen hat. Er hatte die Bremswirkung auf nassem Kopfsteinpflaster wohl falsch eingeschätzt – oder einfach geschlafen und nicht aufgepasst.
Ein Opel Astra Kombi. Relativ neu. Aus Hoyerswerda, einer kleinen Stadt im Land Brandenburg Freistaat Sachsen mit zweifelhaftem Ruf. Ein Spießerauto wie aus dem Bilderbuch. Hatte ich erwähnt, dass ich OPEL noch nie leiden konnte? Und OPEL-Fahrer in der Regel auch nicht? Dann die Überraschung: Ausstieg ein Mann Mitte/Ende 20 mit Irokesenschnitt und leicht "Anarcho-angehauchtem" Outfit. Des Rätsels Lösung: Er hatte gerade seine Eltern (in deren Auto) zum Flughafen Tegel gebracht, von dem diese in den zweiwöchigen Jahresurlaub aufgebrochen waren. Doch es ging noch weiter: Er wohnte "gleich um die Ecke", er war fast daheim. Und normalerweise biegt er eine Straße früher ein, aber die hatte er verpasst (was wiederum ein Indiz für Übermüdung war).
Nun, um es kurz zu machen, die Ergebnisse: Er ist schuld, bekommt drei Punkte und ein dickes Bußgeld, das Auto (Dienstwagen) hat ca. 9.500 EUR Schaden und wird nicht mehr repariert, ich hab ein leichtes Schleudertrauma. Ach ja, und als besonderes Bonbon: Der Ersatzwagen, den EuropCar brachte, war ein….? RICHTIG: OPEL ASTRA Kombi… den ich heute nach einigen Stress mit der gegnerischen Volksfürsorge-Versicherung wieder bei EuropCar angegeben habe. Aber das wäre eine weitere lange Geschichte :-)
So, this was my "crash-free" driving history. After some smaller (rear-end) collisions in my wilder times as a young guy ;-) I managed to stay crash-free for several years. Until last Thursday, 23rd September. Then it hit me. Well, this time I was unblameable. I was just returning from the Kindergarten where I left Nadja. I was driving on side streets when somebody took my right of way. He simply misjudged the braking power on wet cobbled roads – or was simply sleeping.
It was an OPEL Astra stationwagon. Quite new. From Hoyerswerda, a small city in the region of Brandenburg Saxonia with not the best reputation. A petty bourgeois' car at its best. Did I mentioned that I hate OPEL? And in most cases does not like Opel drivers? Then the surprise: The driver was mid-twenty, maybe nearly thirty, not older. Wearing a mohawk haircut and a bit "anarchic-styled" clothes. The solution: he has been driving his parents (in their car) to the Berlin airport where they were departure for their two-week-holidays. And this guy was already very close to home, he told me that he usually drives another street which he missed that morning. Well, another evidence for the "sleeping theory".
To cut a long story short, here are the results: He is guilty, has to pay a high fine, the car (company car) got damaged for around 9.500 EUR (which means "beyond repair" based on economic calculation of the leasing company), I suffered from a whiplash injury and my wife and me spent a lot of time to handle all crash-related issues. Well, and as special bonus guess which car I got from car rental as replacement? RIGHT: An OPEL ASTRA station wagon. And yes, after driving it myself for some days I still hate Opel… ;-)