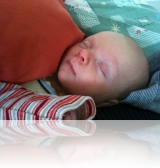 So sieht es aus, wenn er schläft. Süss, oder? Wie ein kleiner Engel.
Aber der Weg dahin ist weit. Malte scheint Angst zu haben, etwas zu verpassen, wenn er schläft. Jedenfalls kämpft er immer kräftig dagegen an, wenn die Augen vor Müdigkeit zufallen wollen. Es ist ein faszinierendes Schauspiel, dass sich sehr gut beobachten lässt, wenn man ihm auf den Armen in den Schlaf wiegt. Um ehrlich zu sein, ist es manchmal allerdings auch nervenaufreibend… "Nun wehr Dich doch nicht länger, schlaf ein und träume was Schönes", möchte ich ihm dann zuflüstern.
This is how Malte looks when he is sleeping. Cute, isn't it? Like a little angel.
Well, the path to sleep is long and stony. Malte seems the be afraid to miss something while sleeping. Everytime he gets tired, and his eyes are closing, he fights against the sleep with all his might. It is fascinating to watch it when you try to lull him to sleep in your arms. Well, to be honest, sometimes it is also nerving… "Come on, little one, stop fighting, fall asleep and have a nice dream", I would like to whisper to him in such moments.
Leave a Reply